The Curtain Falls - Bobby Darin
Lou Villano - A Premier Entertainer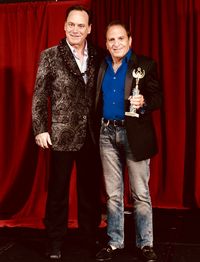 "2018 AGENTS BEST IMPRESSED AWARD" received at The Sunburst Convention, Orlando
Latest News Release - Journalist Joe Capozzi writes about Lou Villano as a Tribute Artist and the Singing Scorekeeper
 
A powerful voice, great stage presence and true professionalism, Lou Villano is a popular and dynamic entertainer as he delivers a GREAT show every time he is introduced on stage.  He has received praise from songstress Julie Budd saying, "You are a fabulous singer … a major talent".  On May 18th, 2014 at a show in Fort Lauderdale at the Park Playhouse Theater, with over 1100 people in the audience, Lou was named 2014 Tri-Rail Idol of South Florida out of 12 finalists !! At the Sunburst Convention - Orlando in August of 2018 Lou was voted the "2018 AGENTS BEST IMPRESSED AWARD" for his Paul Anka showcase performance. 
Lou's newest and hottest show is "TIMES OF YOUR LIFE - The Paul Anka Songbook" which is receiving RAVE REVIEWS and standing ovations.  This show is A- One-Of-A- Kind TRUE Paul Anka Show for at least 90 plus minutes.  Along with his talented musician's - The Destiny Band - Lou Villano becomes Paul Anka and recreates Paul's actual Live performance show with arrangements like Diana, Lonely Boy, Your Are My Destiny, She's A Lady, My Way, video presentations when performing Paul's hit song he wrote for the movie The Longest Day and a great song for Sammy Davis, Jr. - I'm Not Anyone.  The show is from 60 - 90 plus minutes of high energy arrangements that will leave you singing along to every song. THIS IS A MUST HAVE & SEE SHOW.
 
You may have seen Lou perform at the Black Box Theater in Boca Raton & Lake Park to almost sellout audiences, a guest performer with the Hallandale & Sugar Pops Symphony Orchestras, at some of the outdoor festivals in Jupiter's Abacoa, Delray Beach, Port St. Lucie, Fort Lauderdale or in many of the community theaters and clubhouses from Miami to Northern Florida.  In the summers of 2011 & 2012 Lou completed 3 week tours in the New York Metro area with shows in the Catskill Mountains including the popular Villa Roma, Dix Hills Performing Arts Center, North Shore Towers CC, and the Laurie Beechman Theater in New York City and September 2019 performing his Paul Anka Show at the Villa Roma Resort in the Catskills. A return appearance is scheduled for Oct. 10, 2023 and Lou is awaiting a touring schedule of dates taking him to Arizona and the California  area in January & February of 2025.  Dates will be posted after the first of the year 2024.  
Lou is a very popular entertainer in the musical community, respected by his peers and has established himself as one of the premier performers. In part, a few of his shows feature small tributes to some of the great performers like Bobby Darin ("Singin' & Swingin' the Hits of Bobby Darin"), Tom Jones, and The Rat Pack, Let The Good Times Roll Variety Show performing hits by many of the 1950 & 1960 teenage idols. also an audience favorite - Luck, Love and Romance with a Special segment  "Remembering Mr. Show Business.…Sammy Davis Jr".  Lou has recently teamed up with hilarious comic Peter Fogel in 2 special variety shows, What Happens in Vegas, Stays in Vegas,  The KosherNosta Show - Spaghetti and Matzo Ball Comedy & Music Show.  Check out all his reviews from his various performances.
 
Lou has performed with the late Sal Richards, Mike Marino, Rich Purpura, Gene Merola, Jeff Laub, Tom Cotter, Steve Solomon, Maureen Langan, Bobby Kelton, Peter Fogel, Brad Zimmerman, Max Dolici, Carl Guerra, Rocky LaPorte, Wendy Liebman and singing legend Lou Christie. Besides performing, during his career Lou has enjoyed playing small extra parts in television's "Law and Order", "Third Watch", "Deadline", "The Sopranos" and the  USA Network series "Burn Notice".  He even did a commercial for ITT !!
 
Wendy Liebman stated after their performance together at The Villages, "It was great to work with you Lou. Your show was fabulous and you're such a great performer."  Lou's receiving standing ovations and rave reviews after every performance, make his shows a MUST HAVE & SEE !!